Julie's story
Hi my name is Julie. I heard of ENABLE Glasgow through my sister, who is the organisation's Social Activity Co-ordinator. Karen was looking for volunteers for the Tuesday night club at Ledgowan, so my mum and I went along to give it a try. Two years on, we are both still volunteering there every week!
It's only one night a week for 2 hours but without volunteers these clubs couldn't run and it is the only social activity for some of ENABLE Glasgow members where they can feel part of the community. We play games, do arts and crafts, listen to music and play bingo. The best part for me was getting to know the service users individually and it is so rewarding to see them enjoying themselves.
I had never been in an environment with adults with learning disabilities before, so it was a bit daunting at first; I didn't know what to expect! After my first few weeks, I felt my confidence was growing and wanted to do more, so I also started volunteering at Esmond Street's Advanced Support Service one day a week doing arts and crafts, helping at lunch time and doing some driving when needed. I also did some fundraising.
It was then I realised I wanted to leave retail after 25 years and work in social care. A part time domestic position became available and after an interview I was delighted to be offered the job. The training and support from all the staff and management team has been fantastic; I have even completed my first accredited training course in Dementia Awareness. I love volunteering, it has given me the opportunity to change my career, something that I thought I would never do, and i would recommend it to everyone!
Anna's story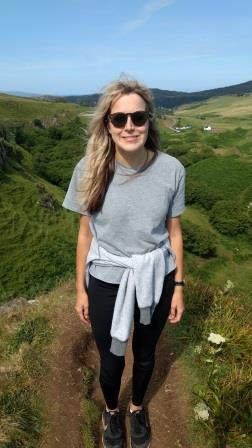 I've been volunteering at the Wednesday evening social club at the Carlton centre for just over a year now. I originally applied for volunteering with Enable Glasgow in order to gain some experience in a care environment. Never did I imagine that this opportunity would end up being such an important part of my life.
I mainly volunteer in the arts and crafts room, where social club members can do different art and craft activities. More importantly, it's a space for having a chat and a laugh. Over a can of diet coke and a colouring-in sheet, I've got to know lots of lovely people who I never would have had the opportunity to meet in my normal day to day life. It's been really enjoyable hearing peoples' stories and it's been a privilege getting to know people to the point of being able to call them my friends.
As well as being an incredibly enjoyable experience, it's also been really helpful in increasing my understanding of different learning disabilities and how they affect peoples' and their families' everyday lives. I feel a lot more confident in my ability to listen, engage and help people. I recently completed Management of Actual and Potential Aggression (MAPA) training with Enable Glasgow organised.
Volunteering has been incredibly enriching for me personally, but it is also very clear that I make a difference to the members that go there. I know that if I don't go one week then they'll be people that missed me being there, just as if I don't go I'll be sad that everyone's having fun without me! Club members are really friendly and love meeting new people, so the more people that volunteer the better
Emma's Story

My name is Emma, I started volunteering for Enable Glasgow a few years ago when I wanted to build up some work experience while at University. I had heard of Enable Glasgow through the work they do for individuals with learning disabilities in Glasgow and was interested in getting involved.
I started volunteering at the weekly social clubs, helping the service users with art and craft activities. I saw it as a chance to apply my previous experience as a workshop assistant in a new setting. As time went on, I started to help out with more of the club activities. I liked knowing I was helping with something important and supporting a good cause. It was also great getting to know the staff, volunteers and service users better.
After volunteering for several months, I learned of a paid opportunity working with Enable. It was an opportunity to continue to do something I loved but to get paid for it, so I jumped at the chance! Through volunteering with Enable Glasgow I was therefore able to start working as a support assistant. The organisation offered me a range of training such as Dementia Awareness, Fire Safety and First Aid as part of the job. This meant I gained a lot of new skills and experience through my work. It was a brilliant opportunity I never would have had if I hadn't volunteered with Enable Glasgow.
Now, years later, I am back volunteering with Enable again at the social club. It is a lovely community and I couldn't wait to get involved again.
Lorna's Story