Peter Wins Star Member Award
Posted on 11th Dec 2019 at 09:15 ( Last updated on 11th Dec 2019 at 09:15 )
Peter Wins Star Member Award!
Peter McMahon, an ENABLE Glasgow Committee and Glasgow ACE member, was presented with the Star Member Award at the recent ENABLE Scotland AGM. Peter is one of ENABLE's most active and effective campaigners, both on issues relating to learning disability and issues relating to his local community. One of his most effective campaigns was the production of three films that described the effect that bullying has on people with learning disability, and how anyone affected can get help to deal with this. He is a passionate advocate for the rights of people with learning disabilities.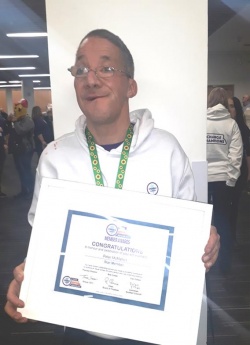 We can't think of anyone who deserves the Star Member award more than Peter, and it's good to see all his fantastic work recognised. Well done!