ENABLE Glasgow members take part in the Keys to Life Implementation Strategy Launch
Posted on 14th Mar 2019 at 10:28 ( Last updated on 18th Mar 2019 at 09:51 )
13th March saw the launch of The Scottish Government's new Implementation Framework for The Keys to Life, Scotland's learning disability strategy. The Implementation Framework 2019 – 2021 adopts a 'whole system, whole population and whole person' approach to improving the lives of people with learning disabilities in Scotland.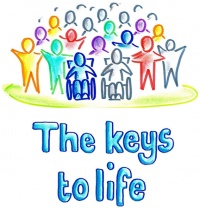 ENABLE Glasgow members Steve Faleu, Sally Elfverson, Derek Clark, and Stephen Reilly took part in the launch video. Sally is also a member of the Keys to Life Expert Group, helping to oversee the strategy implementation, alongside people with learning disability from all over Scotland.
The Scottish Government and COSLA is looking forward to working with the Scottish Commission for Learning Disability and other partners to deliver the Framework and work towards unlocking better futures for people with learning disabilities in Scotland.
You can download The Keys to Life 2019 – 2021 here. You can download an easy read version of The Keys to Life here.
There is also a new The Keys to Life website, detailing the Framework across its four priority areas:
- Living - Learning - Working - Wellbeing