New ENABLE Family Connect Service Launched
Posted on 14th Aug 2020 at 11:07 ( Last updated on 14th Aug 2020 at 11:11 )
Our colleagues at ENABLE Scotland have launched a new service to help support family members and loved ones of people with a learning disability. The service is called Family Connect, and it went live on 3rd August. There are four main parts to the service: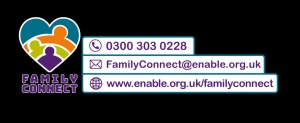 - Regular online meetings specifically for people who are family members of someone with a learning disability, include a forum for families to catch up with each other.
- A dedicated telephone line for family members to contact ENABLE Scotland and get support and guidance.
- A library of resources to help family members with different situations they may face.
- A Facebook chat service for families to get in touch and receive support.
The Family Connect Helpline can be contacted on 0300 303 0228, and the line will be staffed on Tuesdays, Wednesdays, and Thursdays from 9am until 5pm. There is a Voicemail system for calls outwith these times, and there is also a dedicated email address at FamilyConnect@enable.org.uk. Family Connect also has a Facebook page that family members can 'like' – this will allow them to see regular updates from Family Connect in their newsfeed. There's also an online calendar of meetings allowing everyone to see the schedule of activity. There are more details about Family Connect on the ENABLE Scotland website at www.enable.org.uk.